About East Park
Through economic highs and lows, some things remain constant, 1275 Hamilton Road – the place we call East Park. A place where for the past 60 years, people always make time to "play."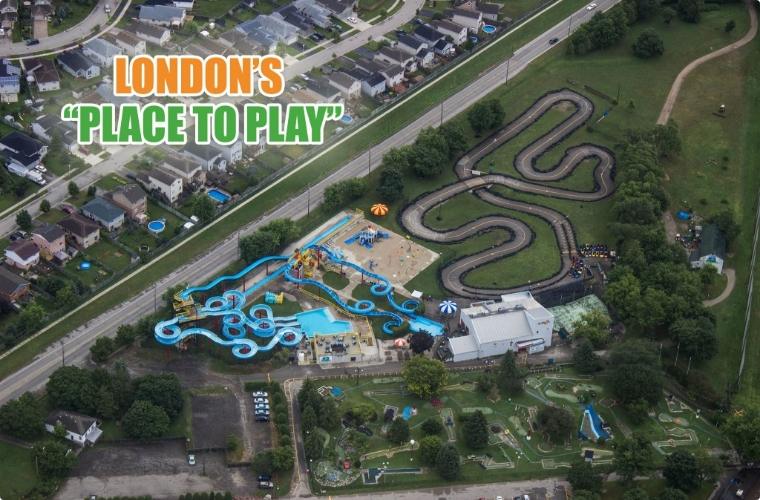 Park History
Whether they are rocketing a little white ball down a fairway or throwing themselves down a waterslide, Londoners have made "playtime" a priority. That is why East Park has become London's Place to Play!
One has to wonder what it was that brought the 10 prominent London families together in 1963 to found East Park. Was it a sense for business or was it a sense of playfulness? Regardless, it proved successful. With the vision and foresight of Roy James and the other founding partners including his son Roscoe, Mowbray Sifton and James Windsor and the inspiration provided by T.J. Branton, the first owner of the property who had dreams of a Country Club Style resort he called Branton Acres – East Park was launched on its path of 'fun' for the first 50 years.
In its early days, East Park was mostly about golf. The new executive 18-hole course undertaken by the new ownership was designed by renowned course architect Clinton "Robbie" Robinson, who has designed over 140 courses in Canada, US and South America. There was also a larger-than-usual mini-golf course called Putt-R-Golf. Over time the original owners started adding new attractions such as batting cages, waterslides and a go-kart track. They also hired the now famous golf pro Bob Martin to manage the park. He created innovative programs like his weekly Golf Demonstrations. Bob performed trick shots including his favourite. He shot a ball between two limbs of a tree, off an obstacle and landed it back on the range to the cheer of the crowd. Bob also recounts hosting poolside parties in the famous riverside swimming pool followed by a barbeque and dancing on the shuffle board dance floor.
In 1988, Harry Stone and his son Ian, along with Neil Kapp, bought the park from its founders, and in 2004 Alon Shatil joined the ownership team. In 2022, Justin Tiseo becomes the newest partner and Assistant GM in the ongoing legacy of East Park. The new owners kept the long standing tradition of evolving and changing the park. First, by adding a bridge to the go kart track, then in 1997 a 2nd mini golf course was added. In 2000, the indoor Intencity Fun Centre was added that included rock climbing, bumper cars, a jungle gym play area as well as a video arcade, a concession and bar. In 2004, the Wally World at East Park Waterpark was opened to compliment the existing 2 slide structure along with a splash pad and in 2008, a 2 ½ story water climber with tipping bucket was also added. In 2018 a longtime dream of adding a wave pool is realised, ushuring in a new era of waterpark fun.
Programs were developed over the years including Summer Junior Day Camps, which now range from golf to rock climbing to fun camps with over 700 campers each season. Other innovative programs include the East Park Corporate Challenge, various Team Building Events and now, the very popular East Park Amazing Race. Of course, Golf Tournaments and Corporate & Family Picnics are still a mainstay of the summer happening at the park.
Today, East Park offers an 18 hole golf course, driving range, two mini-golf courses, batting cages, a go-kart track, seven water slides, a splash pad with a waterclimber, a wavepool, a rock climbing wall, bumper cars, jungle gym, a video arcade and two on-site indoor café/bar areas and an outdoor Tiki Bar in the waterpark.
Timeline
1950s
Property that is now East Park is a horse-training farm owned by the Branton family.
1960s
Branton's convert their horse barn into a 4-plex apartment and a 6-room motel. A pool, tennis courts and a small 9-hole golf course with a clubhouse is added as well. Branton Acres Country Club is born. A larger-than-usual miniature golf course (Putt-R-Golf) is also created with hopes it will become the model for a national chain.
1970
East Park flourishes and adjacent property is leased for an expansion that includes batting cages and a train-ride that circles the entire park. A merry-go-round, a Ferris wheel and other small amusement rides are also added.
1980s
A go-kart track and a two-slide water slide are added.
1990
A new bridge creates a longer, more sophisticated go-kart track.
1997
A second mini-golf course is created and integrated with the original course. It is re- branded Harry's Goofy Golf in honour of the late Harry Stone.
2000
Intencity – an indoor entertainment and recreation facility – opens its doors. Attractions include a 40-foot rock-climbing wall, bumper cars, a 2-story jungle gym, a video arcade, and a concession stand.
2003
East Park purchases waterslides from Wally World at auction.
2004
Wally World at East Park opens. The water park now includes seven slides including the famous Wally World 5-slide tower and a splash pad.
2008
A two-and-a-half story water climber is added to the water park. This enables younger children to work up the courage to ride the larger slides and gives adults a chance to get wet and have fun without having to go down slides.
2013
Just in time for 50th anniversary celebrations, Tee-Rex arrives on the scene and East Park gets a brand makeover.
2014
10 apartments have been removed to make way for something new. Wave Pool? A new waterslide attraction? Stay tuned…
2018
Splash against the waves, float on tubes or catch the rays on deck. East Park introduces a wavepool that incorporates cutting-edge waterpark technology. The shallow beach entrance gives kiddies the opportunity to wade in the water while the big kids take on the waves.
2022
After emerging from COVID-19 restrictions, East Park celebrates many firsts, playing host to The Amazing Race Canada Episode, its first concert in the Park hosting Myles Goodwyn and sold out summer camps hosting over 1,200 campers throughout the summer. East Park rebrands its golf course to East Park Golf Club with a new logo featuring East Park's beautiful landscape alongside the Thames River!
2023
East Park celebrates its 60th Anniversary!