Batting Cages
With four different fastball speeds and all cages equipped with softball pitches, the batting cages at East Park are perfect to help beginner and experienced baseball players hit a home run!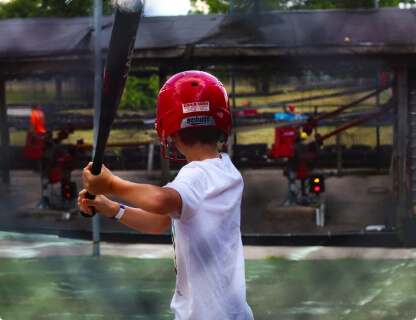 Pricing
| TOKENS | PRICE |
| --- | --- |
| 1 Token (12 balls) | $3.25 |
| 3 Tokens | $8.00 |
Group pricing is available. * All taxes are extra
Batting Cage Rentals Rates
$70.00 per cage/per hour or $45.00 per cage/per ½ hour.
Single cage rentals are available most times. Multiple cages are available during off peak hours only. All 4 cages are dual-use for baseball and slowpitch. Call to book. * All taxes are extra
Policies
An adult must supervise children at the batting cages.
Helmets must be worn when batting – no exceptions!
Only one person is allowed in the cage at a time – if your child is too young to stand in the cage by themselves, they are likely too young to be allowed to bat.
Rain Check & Return Policy
No Refunds! Receipt must be presented. If rain occurs and play cannot continue on outdoor activities a) exchange for indoor or other open outdoor activity. Exchange only up to value of ticket. b) a rain check can be issued so you can come back and use the unused portion of ticket another day.
Baseball Speed
| Cage Type | Speed |
| --- | --- |
| Slow Cage | 45 miles/hour |
| Medium Cage | 55 miles/hour |
| Fast Cage | 65 miles/hour |
| Very Fast Cage | 75 miles/hour |