Course Details
Designed by famous architect Robbie Robinson, the 18 hole beautifully landscaped course presents a picturesque setting for beginners and seasoned players. Voted London's Best Golf Course in the London Free Press "Quality Service Reader Survey" East Park is an easy walking course, great for seniors and the perfect choice for a golf tournament.
Hours
Golf Course
Daily
8:00 a.m. – dusk (last tee time)
See all park hours
Hours are subject to change and weather permitting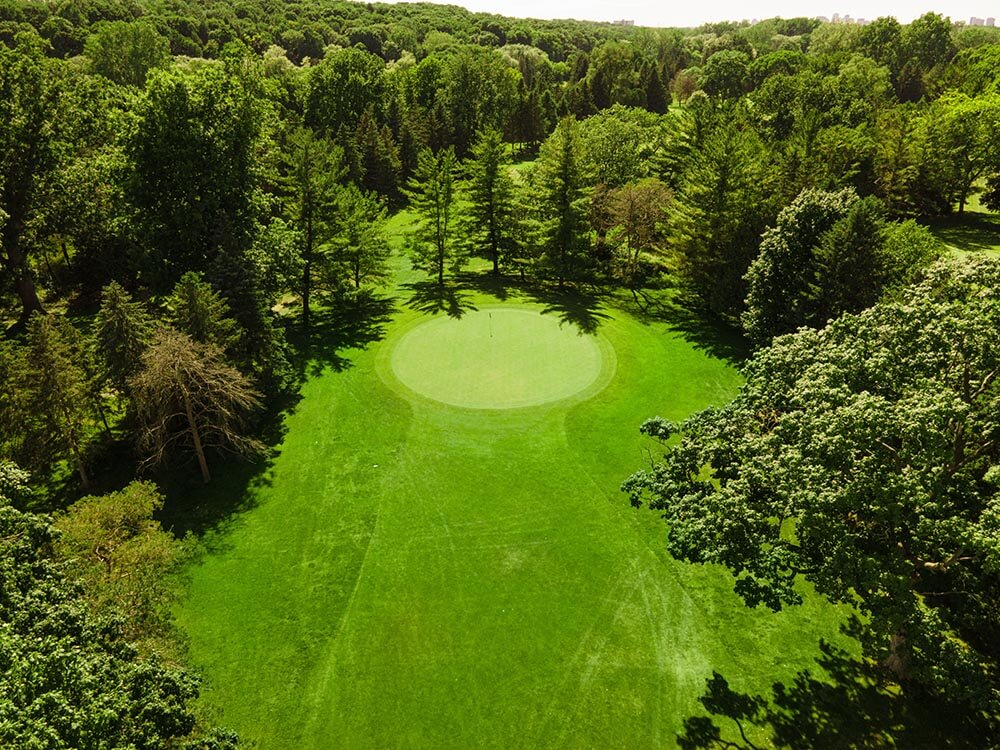 Course Details
East Park Golf Course is beautifully maintained by our Course Superintendent, John Fox.
White
| Yardage | Par | RCGA Course Rating | RCGA Slope Rating |
| --- | --- | --- | --- |
| 4146 | 62 | Men 59.4 Women 61.3 | Men 88.0 Women 91.0 |
Red
| Yardage | Par | RCGA Course Rating | RCGA Slope Rating |
| --- | --- | --- | --- |
| 3639 | 62 | Men 58.6 Women 60.0 | Men 86.0 Women 90.0 |
Tee Time Policies
Online Booking and Credit Card Policy
Tee Time's may be booked in person, online or by phone up to 7 Days in advance. East Park encourages all players to book online as our phone lines can sometimes be extremely busy.
Credit cards are now required for all tee time bookings. Your credit card will NOT be charged at the time of booking unless you are: 1) Purchasing a prepaid tee time 2) Opting to pre-pay your green fee(s) online, rather than in the pro shop at the time of your arrival at the golf course.
You may select your method of payment in the clubhouse at the time of check in (unless you have purchased your green fees in advance).
Cancellation of Tee Times
Your tee time is reserved just for you and the other golfers in your time slot. A last-minute cancellation, no show or short show leaves a vacancy in the golf course's tee sheet for that day – a hole that could have been filled by another golfer.
East Park's policies with respect to cancellations, no shows and short shows were developed to minimize the number of gaps in the tee sheets resulting from last minute cancellations, no shows and short shows. We accept cancellations to bookings up to 6 hours prior to a tee time. If you cancel a tee time with at least 6 hours' notice, there will be no charges incurred.
If the course is unplayable due to weather or other circumstances, you will not be charged for your booking. In instances where golfers cancel with less than 6 hours' notice, the golfer who booked the tee time will be charged a cancellation fee equivalent to the cost of the original booking.
In the event you are late for your scheduled Tee Time, Our staff will do our best to accommodate you, however if the golf course is fully booked you will not be able to play.
Pre-Paid Tee Times
Prepaid tee times have a 6-hour cancellation policy and are otherwise non-refundable in any way. Should you cancel your pre-paid tee-time with at least 6 hours prior notice, you will receive a rain check for the amount that you paid for your tee-time to use at East Park for your next round of golf.
Power Cart Policies
East Park's Golf Cart supply is limited and therefore carts should be reserved in advance by calling the clubhouse, carts are not guaranteed. Unfortunately, carts cannot be booked online, its best to secure your tee time first (preferably online) and then call the clubhouse to add a cart to your booking.
The only exception to this rule is for large scale tournaments, at which time the course will set aside a specific, pre-arranged number of carts for event participants.
To rent a power cart, you must be the age of 18 with a valid Driver's license and have a major credit card when you arrive. No debit cards (including MC/Visa debit cards.), pre-paid cards or cash deposits will be accepted.
East Park places a $5.00 hold on the card to ensure it is active that will be removed within 24-72 hours if there are no damages inflicted to the cart(s). You will also be asked to sign a "Cart Agreement" to ensure you are aware and agree to these policies & procedures.
In the event of damages to the cart, East Park's Management and Mechanical staff will assess the damage and provide a written assessment of repair costs at which time the responsible party will pay for the damages and repairs as per the "Cart Agreement".
Rain Check Policies
Rain checks are not issued for slow play, personal schedule constraints, personal commitments, incomplete rounds due to darkness, or the like.
Rain checks will be issued as follows:
18 Hole Players: 18 Hole Rain Checks will be issued from the 1st Tee to the 4th Green.
9 Hole rainchecks will be issued from the 5th tee to the 12th Green.
9 Hole Players: Rainchecks will be issued from the 1st tee to the 4th Green.